Post-Game Reflections
By Robert Gooch
---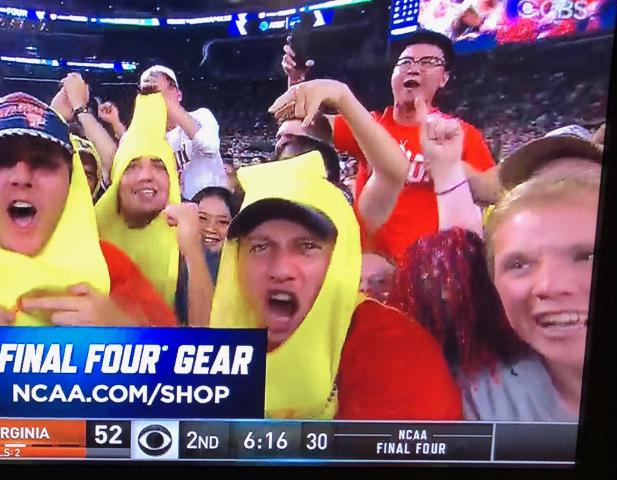 In order to watch the game together from the student section, many arrived at the stadium before the security checkpoints had started letting students in. As a result, the Banana Boys (Carter Berry, Trenton Burmeister, Ben Donovan, Sam Hanny, Dan Kramp, Gavin Hanks, and Bennett Thomas) were able to secure some prime real estate together. When asked whether he would sit in his assigned seat instead of standing at the front row of the student section with a VIP view of the game, Trenton Burmeister astutely said, "No."

The mob of men dressed as bananas strangely attracted the attention of beautiful basketball fans, awestruck children, and photojournalists alike. I don't know. It was like they were seeing a banana for the first time. The Lois Lane of the Minneapolis Tribune conducted an interview with the 7 fruitily-clad Wahoos. She asked about the history of the banana costumes, the players' reaction to it, and the bananas' home game records. But the line of the night came from none other than R2F4's Carter Berry: "We'd like to thank Pizza Hut for being our sponsor. Pizza Hut, where champions eat. Write that down."

The game was a blur, except when it wasn't. Going into halftime, Hoos were down. Rebounding was weak; shooting opportunities had been few and far between; FG percentage needed a boost. Dan Kramp commented, "This game is going fast. That sure was a lot of driving for it to be this short."

The second half started well. The Tigers couldn't score in the first five and a half minutes of play. The Cavaliers played some high quality basketball throughout the half accumulating a lead as big as ten points. But there was still enough time to throw away the game, and we did. Then, we didn't. Then, we won.

You could equate it to the Gospel of Jesus Christ. You feel like everything's fine. Really it's not in your control, and if you expect to achieve eternal salvation on your own, you won't. You will lose and die, by two points when the buzzer sounds. But if you have a referee, or Jesus, in your life who is willing to forgive your sins, or ignore your double dribble, and pay the ultimate sacrifice, or call a three-point shooting foul on Auburn on your final offensive possession, then the resurrection happens and eternal life with your Creator and all that and we're going to the National Championship game.

So, smile on this Sunday. Give thanks, drink, and be merry. Happy hoolidays.