Lyrical Slides allows you to simply and quickly create a presentation of slides containing song lyrics.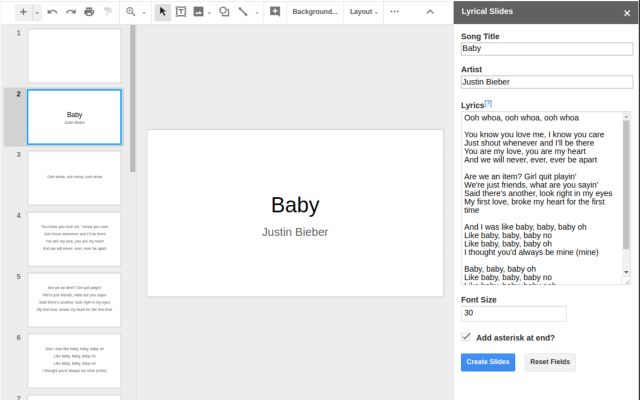 You may specify a song title and artist to create a standard title slide at the beginning. To create slides for lyrics, all you need to do is paste them in the text box and separate lyrical stanzas by blank lines.
For example, let's say you wanted to make slides for the song "Wagon Wheel" by Old Crow Medicine Show. You might decide to split up the lyrics like this, which would result in 4 separate slides:
Heading down south to the land of the pines
I'm thumbing my way into North Caroline
Staring up the road and pray to God I see headlights

I made it down the coast in seventeen hours
Picking me a bouquet of dogwood flowers
And I'm a-hopin' for Raleigh, I can see my baby tonight

So rock me momma like a wagon wheel
Rock me momma any way you feel
Hey, momma rock me

Rock me momma like the wind and the rain
Rock me momma like a south bound train
Hey, momma rock me
Slides look best with about 1-6 lines of lyrics on them. You also have the option to add an asterisk (*) to the last line of the end slide to denote the end of the song, or to change the font size of the lyrics if you need flexibility there.
Once you click create slides, they will be automatically inserted immediately after the currently selected slide. A blank slide will be added afterwards for a break between songs.
Click here to view the Terms of Service and Privacy Policy
Lyrical Slides graphics created by Nathanael Nelson.